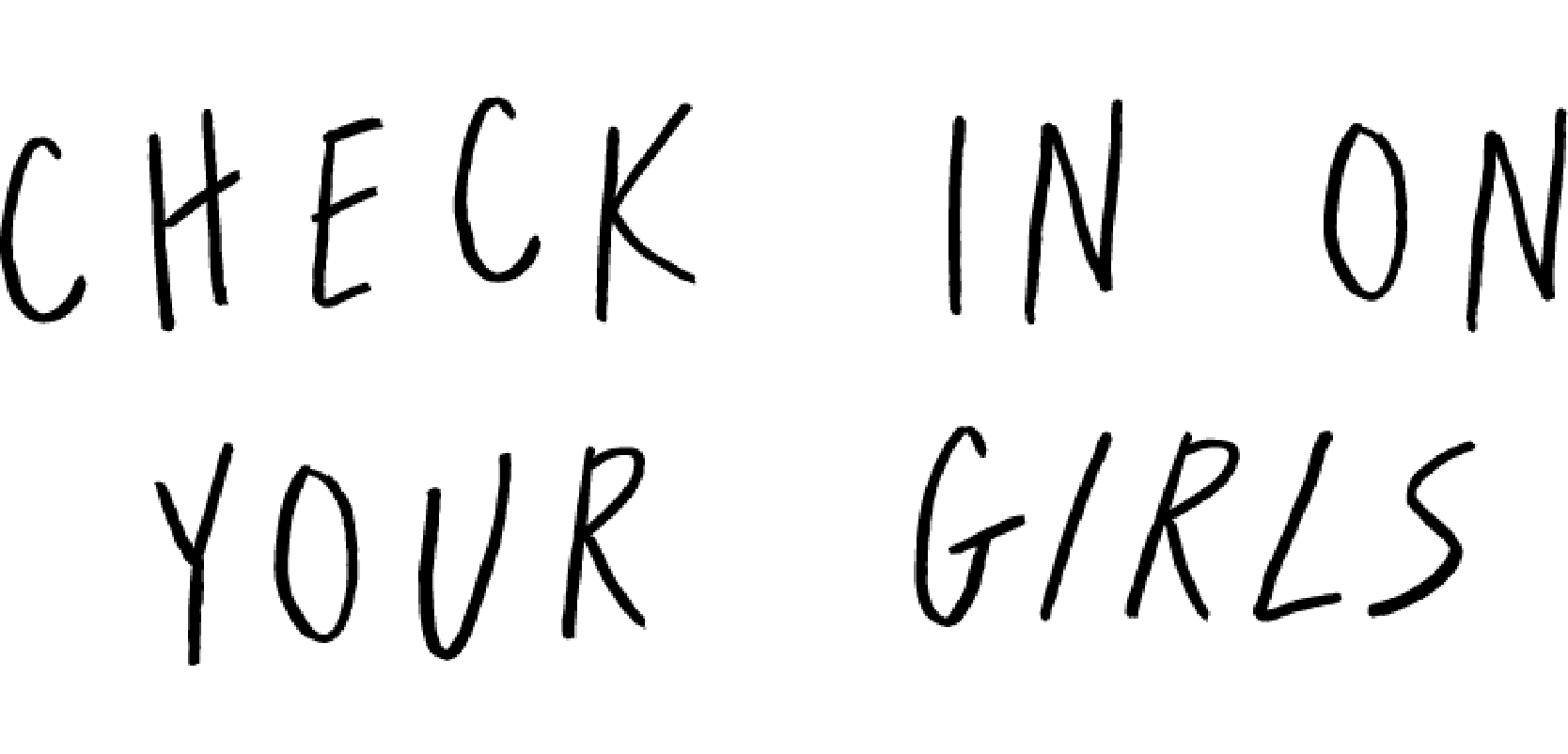 moochi has been a proud and long time supporter of breast cancer cure, a cause that champions women's health and funds research projects that continue to push us one step closer to a cure
check in on your girls is a limited edition tee, designed in true moochi style. this minimal, graphic tee, with a playful tone of voice, is sure to evoke a smile while acting as a conversation starter, and a visual reminder of what the tees for a cure campaign is all about
the limited edition tee will be available online through breast cancer cure until 11th november
how can women empower themselves to know more about the signs and symptoms of breast cancer?
katrin: if we can encourage other women to talk openly and share their experiences about regular self-exams, knowing the signs and support each other to normalise talking about this, this will ultimately help to encourage awareness and understanding around what to look out for. it's so important to encourage women to be more informed about the signs and symptoms of breast cancer for early detection and better health outcomes
simone: check yourself regularly for any unusual bumps. in the shower is the perfect place
michelle: research has shown māori women experience higher rates of breast cancer, and māori and pasifika women more commonly get breast cancer at a younger age, therefore it's so important that women of all backgrounds take the time to learn the normal look and feel of their breasts. knowing what's normal will help to find anything that is unusual for you
as a mother, how will you encourage your daughter to self-check and be aware of the signs and symptoms?
katrin: if i am lucky enough to have a daughter in the future, i will make sure to foster an open and supportive environment by providing all information necessary to be aware of breast cancer symptoms and really emphasizing normalcy around it to hopefully lead by example
simone: if you do every find any unusual bumps, get them checked straight away, go through your doctor in the first instance and they will refer you onto a mammogram
michelle: i want my daughter to be aware and comfortable in her body, and to listen when something doesn't feel right. women have an intuition and when we feel something is off, there's often a reason why. i want her to be around for her family if and when she chooses to have one; its heartbreaking knowing how this disease is taking the lives of so many mothers, wives, daughters, sisters and friends. it's a profound loss that devastates families and fundamentally changes the course of their lives
why is supporting breast cancer cure so important to you?
katrin: breast cancer is a global health issue that affects not only individuals but entire communities. by supporting research and awareness efforts, we can make significant strides in early detection, improved treatments, and hopefully one day, finding a cure. this means a brighter and healthier future for all of the amazing women in our lives!
simone: my sister in law and also one of my besties found a lump recently, turned out cancerous and is now going through an aggressive course of chemo post operation, so it's a cause very dear to my heart and keen to support in any way possible. it can really happen to anyone, so getting checked is so important.
michelle: aotearoa new zealand has one of the highest incidence rates of breast cancer in the world - one in nine will be diagnosed. breast cancer is taking two of our nation's women from us every day, whilst one woman is diagnosed every three hours